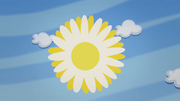 The Sun (in Greek: Helios, in Latin: Sol) is the star at the center of the Solar System and is by far the most important source of energy for life on Earth. It is a nearly perfect spherical ball of hot plasma, with internal convective motion that generates a magnetic field via a dynamo process. Its diameter is about 109 times that of Earth, and it has a mass about 330,000 times that of Earth, accounting for about 99.86% of the total mass of the Solar System.
Physical characteristics
It appears as a sunflower.
Inhabitants
A ladybug is seen sitting on it.